Isolation and Characterization of Principle Bioactive Compounds from Ulva fasciata
Keywords:
Ulva fasciata, Cholest-5-en-3-ol, Antibacterial activity, Disc diffusion, Antibacterial activity guided fractionation
Abstract
Microorganisms have developed new strategies to evade the action of antibiotics leading to multiple drug resistant bacterial strains, leading to an increasing demand in screening for new therapeutic drugs from natural product. Marine organisms are identified as a potential source of novel bioactive compounds. With this in view the study was undertaken to explore the principle bioactive compounds with antimicrobial activity from green seaweed Ulva fasciata. Seaweeds possess bioactive compounds and they have been found to exhibit biological activity against human pathogens. Extraction of the seaweed was carried out using ethanol. The extract was screened for antibacterial and antifungal activity against various bacterial and fungal human pathogens by disc diffusion assay. The bioactive compound present in seaweed was identified using Gas Chromatography and Mass Spectrometry. The ethanolic extract of U. fasciata showed wide range of activity against Gram negative bacterial and few fungal pathogens, while the extract was effective only against Enterococcus faecalis among the Gram-positive organisms selected for the study. The ethanolic extract of U. fasiata was subjected to antibacterial activity guided fractionation which led to the separation of the bioactive compound Cholest–5-en-3-ol. The result of present study revealed that the extracts of the seaweed showed potential antimicrobial activity against the tested pathogens. The presence of the bioactive compound makes the seaweed an effective drug of choice for treating various bacterial infections. Hence it is concluded Cholest-5-en-3-ol isolated from U. fasciata can be used as a potential bioactive compound for therapeutic purpose. © 2022 iGlobal Research and Publishing Foundation. All rights reserved.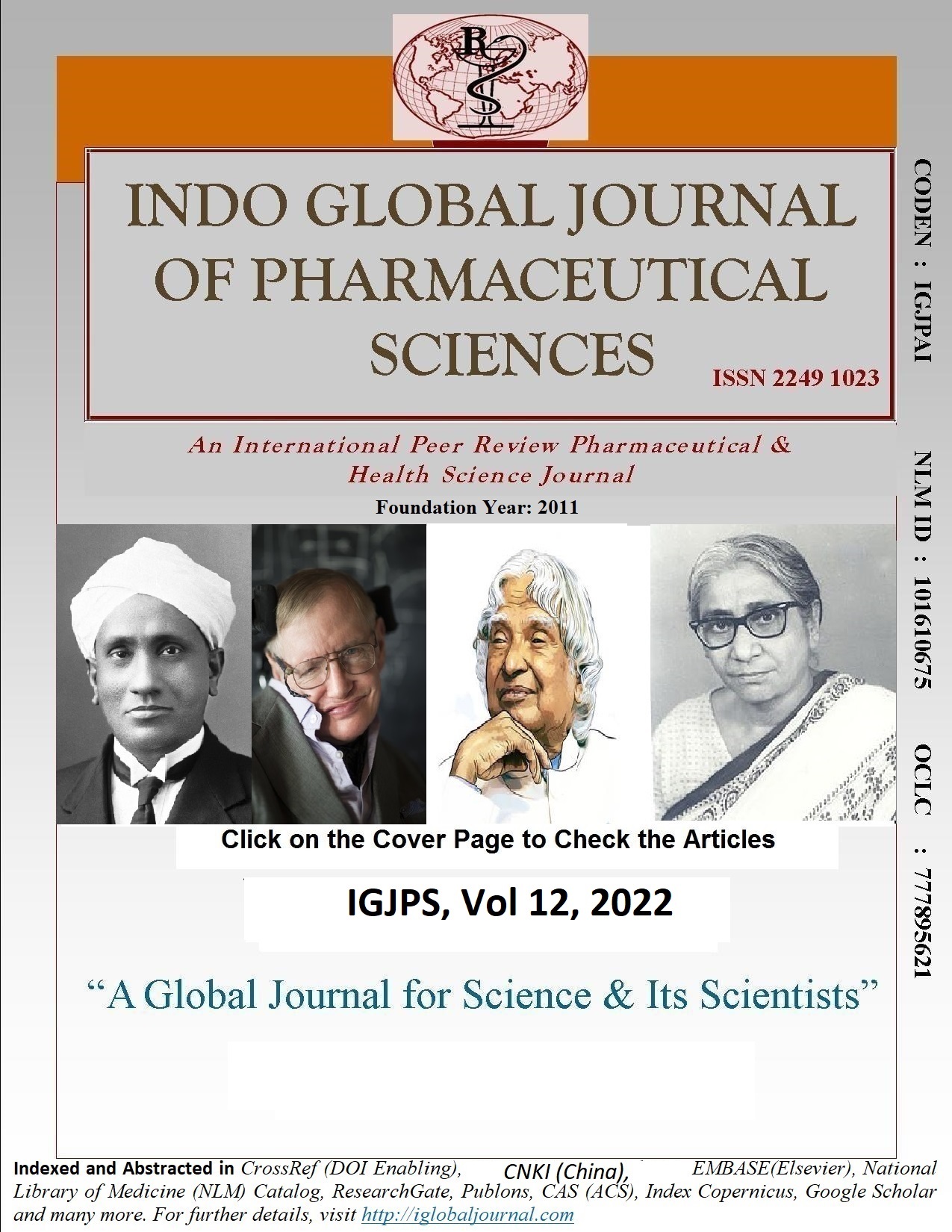 Downloads
How to Cite
Sasikala, C., Geetharamani, D., & Swetha, N. (2022). Isolation and Characterization of Principle Bioactive Compounds from Ulva fasciata. Indo Global Journal of Pharmaceutical Sciences, 12, 134–140. https://doi.org/10.35652/IGJPS.2022.12014
Section
Original Research Article