Formulation and Evaluation of Colon Targeted Drug Delivery System
Keywords:
Colon specific tablet, Guar gum, Metronidazole, Rat cecal contents, Compression coating
Abstract
Purpose: The objective of the present study was to develop colon targeted drug delivery system of Metronidazole using guar gum as the carrier. Methods: Matrix tablets containing various proportions of guar gum were prepared by direct compression technique. Rapidly disintegrating Metronidazole core tablets were prepared and compression coated with guar gum and 20% of microcrystalline cellulose. The tablets were evaluated for hardness, thickness, drug uniformity and subjected to in vitro drug release studies under conditions mimicking mouth to colon transit. Results and Conclusions: The FTIR study indicates no possible interaction between Metronidazole and carriers. The tablets were found within the permissible limits for various physiological parameters. In vitro drug release studies in pH 6.8 phosphate buffer solution containing rat cecal contents have demonstrated the susceptibility of guar gum to the colonic bacterial enzyme action with consequent drug release. The pretreatment of rats orally with 1 ml of 2% w/v aqueous dispersion of guar gum for 7 d induced enzyme specifically acting on guar gum thereby increasing drug release. Dissolution studies were performed in 0.1N HCl for 2 h, in pH 7.4 buffer for 3 h and pH 6.8 up to 24 h. The cumulative percentage of drug release of Metronidazole after 24 h in pH 6.8 phosphate buffers was found to be 98.51±0.02, 86.69±0.02, 84.55±0.04, 39.31±0.02, 24.60±0.02, 18.85±0.02 for formulation F1, F2, F3, F4, F5 and F6. It can be concluded that formulation F1 is considered a potential formulation for targeting the drug to the colon. The results showed that guar gum protects the drug from being release completely in the physiological environment of stomach and small intestine. © 2022 iGlobal Research and Publishing Foundation. All rights reserved.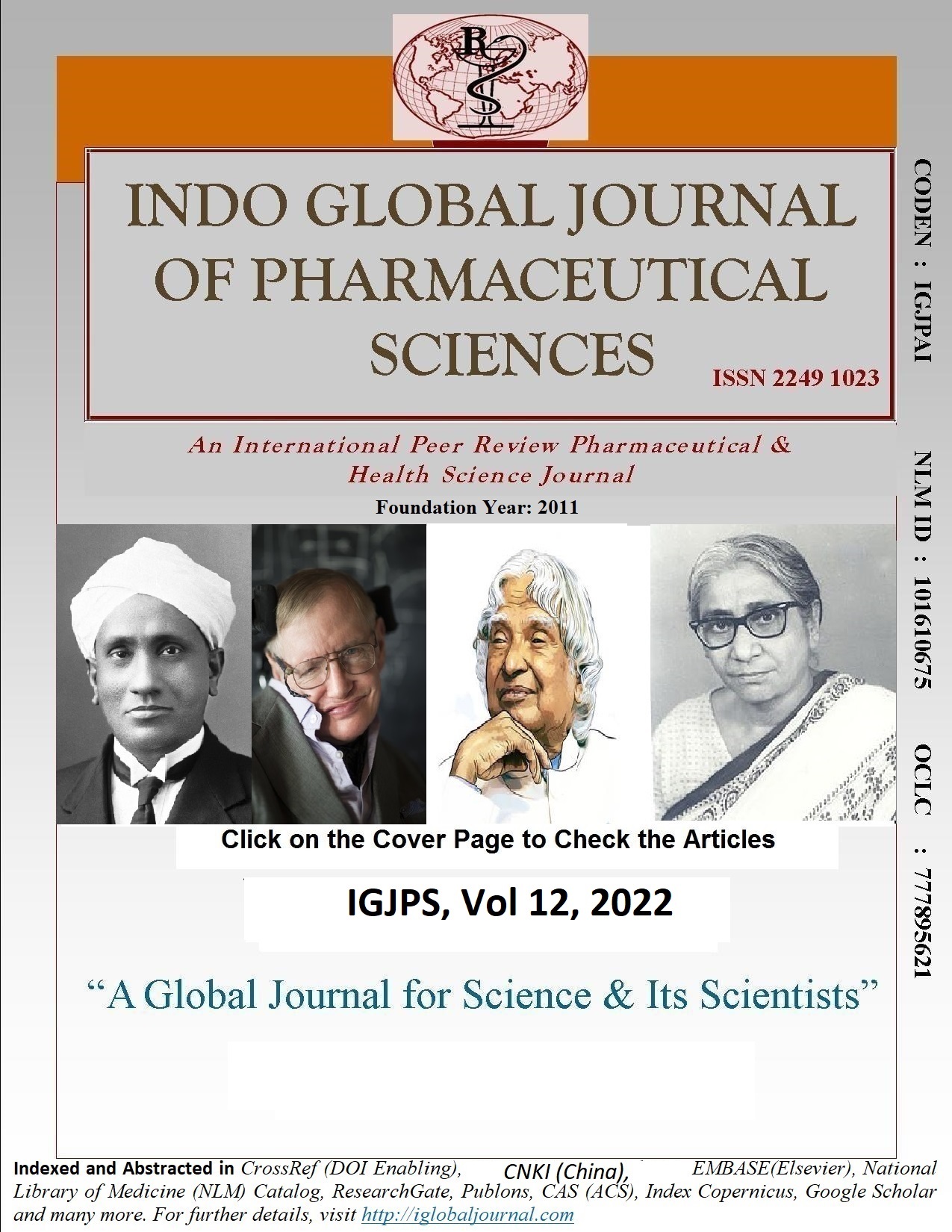 Downloads
How to Cite
Suruse, P., Godbole, M., Bhamre, K., & Shivhare, U. (2022). Formulation and Evaluation of Colon Targeted Drug Delivery System. Indo Global Journal of Pharmaceutical Sciences, 12, 115–121. https://doi.org/10.35652/IGJPS.2022.12011
Section
Original Research Article