FTIR and GCMS analysis of Euphorbia hirta L. and its In- vitro Antibacterial and Antioxidant Activities
Keywords:
Euphorbia hirta L., Antibacterial, Antioxidant, Active functional groups, Active compounds
Abstract
Introduction: Euphorbia hirta L. is a common weed plant belongs to family Euphorbiaceae. The present study brings out the importance of weed plants like E. hirta in medicine and health the care system. Material and Methods: Plant E. hirta has been collected from the garden of Department of Botany, University of Delhi and plant leaves were extracted in ethanol by the soxhlet method. Antibacterial screening has been done by disc-diffusion method. The antioxidant potential has been determined by TPC, TFC, FRAP, Total antioxidants through phosphomolybdate assay and by DPPH radical scavenging activity. FTIR and GCMS analysis have been done for characterization. Result and Discussions: Plant E. hirta showed significant antibacterial activity against Escherichia coli, Staphylococcus aureus, Bacilus subtilis and Pseudomonas aeruginosa with maximum ZOI diameter 19± 0.5 mm against S. aureus and P. aeruginosa both. Plant E. hirta L. showed significant antioxidant potential with 196.32 mg/g, 39.7133 mg/g, 595.99 mg/g, 525.84 mg/g values for TPC, TFC, FRAP activity and total antioxidants through phosphomolybdate assay respectively. Plant E. hirta also showed significant radical scavenging activity against DPPH free radical with a maximum % inhibition 68.505% at 1000µg/ml concentration. FTIR and GCMS of plant E. hirta have confirmed the presence of various active functional groups and compounds. Conclusion: The current study justifies the importance of E. hirta L. a common weed as a source of natural antioxidants having antibacterial potential and its role in herbal medicines. © 2022 iGlobal Research and Publishing Foundation. All rights reserved.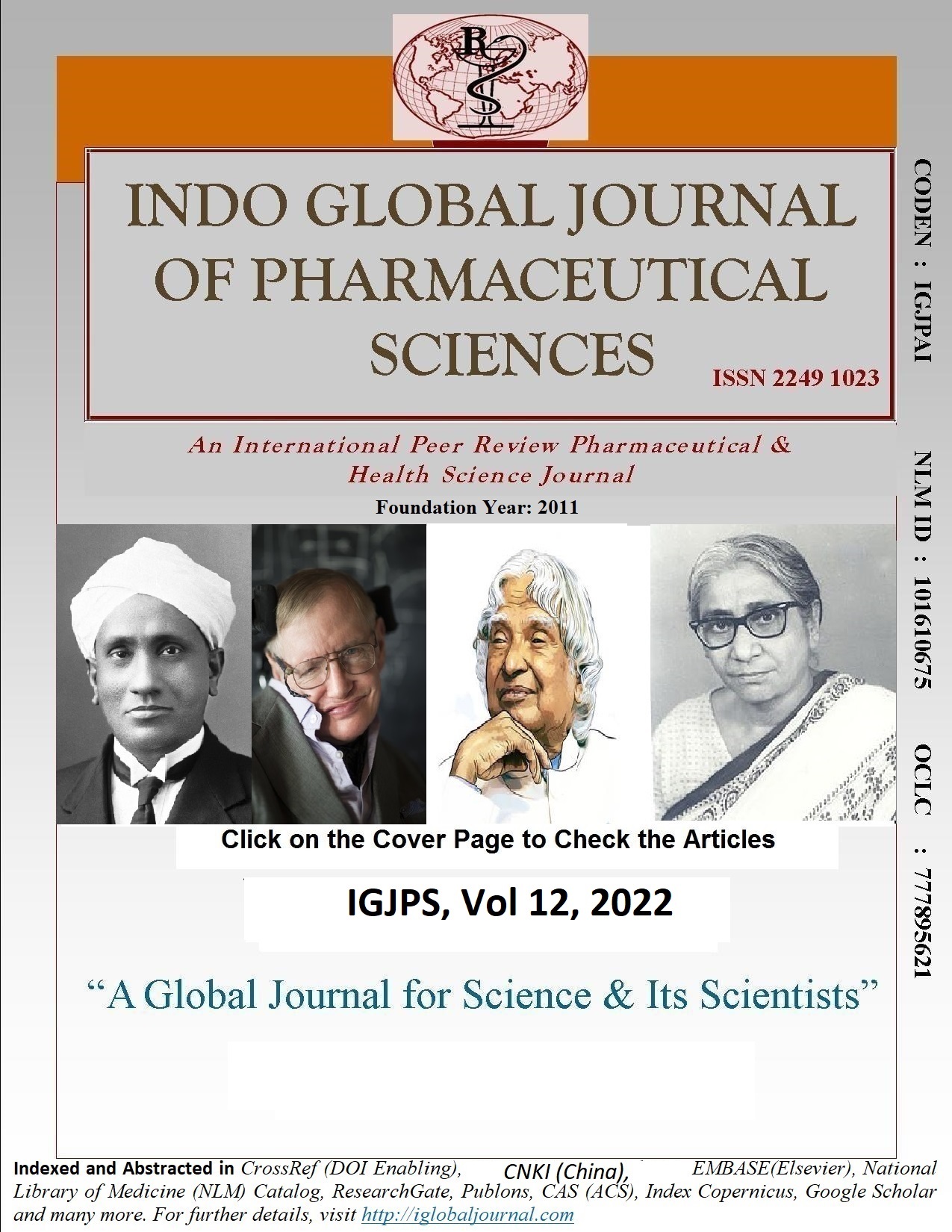 Downloads
How to Cite
Kain, D., Kumar, S., Vandana, Suryavanshi, A., & Arya, A. (2022). FTIR and GCMS analysis of Euphorbia hirta L. and its In- vitro Antibacterial and Antioxidant Activities. Indo Global Journal of Pharmaceutical Sciences, 12, 104–109. https://doi.org/10.35652/IGJPS.2022.12009
Section
Original Research Article