Charota (Cassia tora) Gum: A Potential Element as Suspending Agent, An Investigation of Suitability for Development of Paracetamol Suspension
Keywords:
Cassia tora, Suspension, Charota, Natural gum, Sedimentation volume
Abstract
Background: Charota (Cassia tora) gum is well reported as an additive for food product and generally recognized as safe" (GRAS). It is obtained from the seed of the herbaceous plants of the Caesalpiniaceae family. The plant's seed contains gluco-mannose polysaccharides, which swell in water and form a colloidal dispersion with increasing viscosity. This property of the gum was explored to use as a suspending agent for the preparation of paracetamol suspension. Result: In the present investigation, charota gum was extracted from the plant and used as a suspending agent in a range of 2-4% w/v in preparation of paracetamol suspension (5% w/v). The investigation has been performed compared with gum acacia, tragacanth, and gelatin at a similar range of 2-4% w/v. The parameters like sedimentation profile, rheological studies, redispersibility, pH, and dissolution rate were determined to evaluate suspending ability of Cassia tora gum. Conclusion: A comparative data with other gum reported a higher viscosity and lowest zeta potential for the suspension prepared with Charota gum. At different concentrations, it showed better suspending ability and redispersibility compare, and it was stable throughout the storage period of 6 weeks. The study's data conclude that charota gum produced flocculated suspension, redispersed in the least no of shakes post sedimentation. © 2022 iGlobal Research and Publishing Foundation. All rights reserved.
References
Sarwa KK, Patel D, Rudrapal M, Bhattacharya S, Saraf S, Jain V, Joshi V, Pandey R, Vyas A (2021) Standardization and Quality Evaluation of Botanicals with Special Reference to Marker Components. In: Evidence Based Validation of Traditional Medicines. Springer, Singapore.
Singh S, Bothara SB (2014) Manilkara zapota (Linn.) Seeds: A Potential Source of Natural Gum. ISRN Pharm 2014:647174. doi:10.1155/2014/647174
Sarwa KK, Rudrapal M, Debnath M, Kumar A, Verma VK (2014) Phytochemical and Biological Potential of Cassia tora Linn. European J Med Plants 4(8):946–63.
Mahungu S, Meyland I (2008) CASSIA GUM Chemical and Technical Assessment. Published by Food and Agriculture Organization of The United Nations. Available Via http://www.fao.org/fileadmin/templates/agns/pdf/jecfa/cta/71/cassia-gum.pdf. Accessed 07 Jun 2021.
Morrison JT, Lugo RA, Thigpen JC, Brown SD (2013) Stability of extemporaneously prepared lansoprazole suspension at two temperatures. J Pediatr Pharmacol Ther JPPT Off J PPAG 18(2):122–127. doi:10.5863/1551-6776-18.2.122
Choudhary PD, Pawar H.A. (2014) Recently Investigated Natural Gums and Mucilages as Pharmaceutical Excipients: An Overview. J Pharm 2014:204849. doi:10.5863/1551-6776-18.2.122
Pawar H, Varkhade C, Jadhav P, Mehra K (2014) Development and evaluation of orodispersible tablets using a natural polysaccharide isolated from Cassia tora seeds. Integr Med Res 3(2):91–98.
Hallagan J.B., La Du BN, Pariza MW, Putnam JM, Borzelleca JF (1997) Assessment of cassia gum. Food Chem Toxicol an Int J Publ Br Ind Biol Res Assoc. 35(6):625–632.
Farooq U, Malviya R, Sharma PK (2014) Extraction and characterization of Artocarpus integer gum as a pharmaceutical excipient. Polim Med 44(2):69–74.
Tripathi DK (2015) Industrial Pharmacy: A Comprehensive Approach. Pharma Med Press, Hyderabad.
Sarwa K.K., Mazumder B, Suresh PK, Kaur CD (2016) Topical Analgesic Nanolipid Vesicles Formulation of Capsaicinoids Extract of Bhut Jolokia (Capsicum chinense Jacq): Pharmacodynamic Evaluation in Rat Models and Acceptability studies in Human Volunteers. Curr Drug Deliv 13(8):1325–1338.
Ko YG, Choi US (2012) Gelation of natural polymer dispersed suspensions under electric field. Soft Matter 8(2):253–259. doi: 10.1039/C1SM06400B.
Huang YL, Chow CJ, Tsai YH (2012) Composition, characteristics, and in-vitro physiological effects of the water-soluble polysaccharides from Cassia seed. Food Chem 134(4):1967–1972. doi:10.1016/j.foodchem.2012.03.127.
Moreton, R. C. (2010) Commonly used excipients in pharmaceutical suspensions. In: Pharmaceutical Suspensions: From Formulation Development to Manufacturing. Springer, New York.
Banerjee C, Ghosh S, Sen G, Mishra S, Shukla P, Bandopadhyay R (2014) Study of algal biomass harvesting through cationic cassia gum, a natural plant based biopolymer. Bioresour Technol 151:6–11. doi:10.1016/j.biortech.2013.10.035.
Salehizadeh H, Yan N, Farnood R (2018) Recent advances in polysaccharide bio-based flocculants. Biotechnol Adv 36(1):92–119. doi:10.1016/j.biotechadv.2017.10.002.
Miyoshi E, Nishinari K (1999) Non-Newtonian flow behaviour of gellan gum aqueous solutions. Colloid Polym Sci 277(8):727–34. doi:10.1007/s003960050446
Saha D, Bhattacharya S (2010) Hydrocolloids as thickening and gelling agents in food: a critical review. J Food Sci Technol 47(6):587–597. doi:10.1007/s13197-010-0162-6
Anand O, Yu LX, Conner DP, Davit B.M. (2011) Dissolution testing for generic drugs: an FDA perspective. AAPS J 13(3):328–35. doi:10.1208/s12248-011-9272-y
Večeř M, Pospíšil J (2012) Stability and Rheology of Aqueous Suspensions. Procedia Eng 42:1720–1725. doi:10.1016/j.proeng.2012.07.564.
Yokosawa M M, Pandolfelli VC, Frollini E. (2002) Influence of pH and time on the stability of aqueous alumina suspensions containing sodium polyacrylates: A revisited process. J DISPER SCI TECH 23(6):827–836. doi:10.1081/DIS-120015979.
Singh BP, Menchavez R, Takai C, Fuji M, Takahashi M (2005) Stability of dispersions of colloidal alumina particles in aqueous suspensions. J Colloid Interface Sci 291(1):181–186. doi:10.1016/j.jcis.2005.04.091.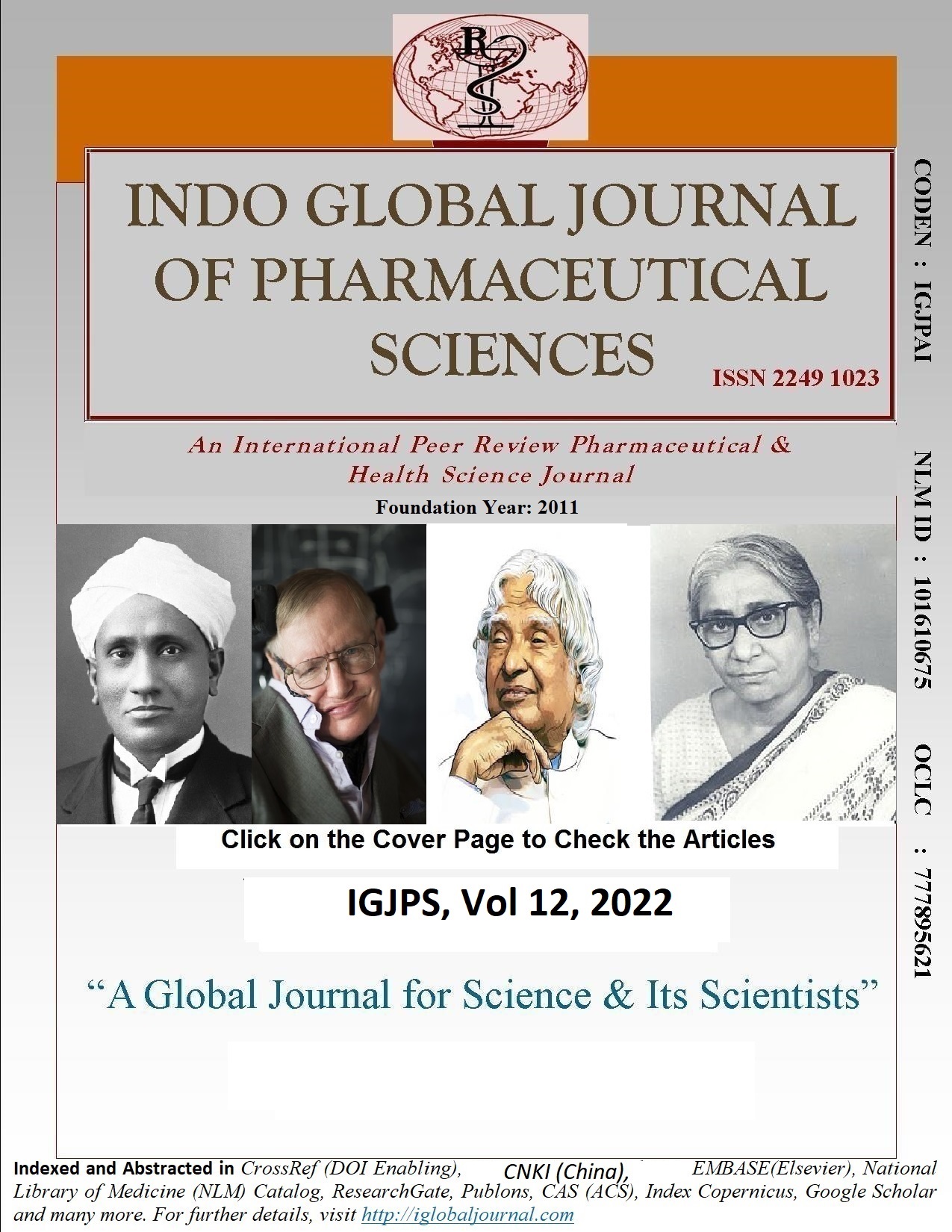 Downloads
How to Cite
Sarwa, K. K., Vishwakarma, P. K., Suryawanshi, V. K., Uraon, D., & Sao, M. (2022). Charota (Cassia tora) Gum: A Potential Element as Suspending Agent, An Investigation of Suitability for Development of Paracetamol Suspension. Indo Global Journal of Pharmaceutical Sciences, 12, 228–236. https://doi.org/10.35652/IGJPS.2022.12029
Section
Original Research Article