A Review on Pharmacological Activities of Vanillic Acid and its Derivatives
Keywords:
Phenolic acids, vanillic acid, antimicrobial, antioxidant, anticancer, anti-inflammatory, antidiabetic, antinociceptive
Abstract
Vanillic acid is a type of phenolic acid which occurs widely in natural products. As phenolic acids possess a lot of pharmacological activities, a number of extracts from different natural sources containing vanillic acid were checked for their various biological profiles by different methods. Vanillic acid was found as a good antimicrobial, antioxidant, anticancer, antidiabetic, anti-inflammatory, antiulcer and antinociceptive agent. Vanillic acyl hydrazone derivatives were found as novel antimicrobial compounds.
References
Lee H.C., Wei Y.H., Mitochondrial alterations, cellular response to oxidative stress and defective degradation of proteins in aging. Biogerontology. (2001); 2:231-244.
Moskovitz L., Yim M.B., Chock P.B., Free radicals and disease. Arch. Biochem. Biophys., (2002); 397:354-359.
Halliwell B. Commentary oxidative stress, nutrition and health. Experimental strategies for optimization of nutritional antioxidant intake in humans. Free. Radical. Res. (1996); 25:57-74.
Figueroa-Espinoza M.C., Villeneuve P. Phenolic acid lipophilizaton. J. Agric. Food. Chem. 2005; 53:2779-2787.
Rice-Evans C.A., Miller N.J., Paganga G. Structure-antioxidant activity relationships of flavonoids and phenolic acids. Free. Radic. Biol. Med., (1996); 20:933-956.
Temple N.J., Antioxidants and disease: more questions than answers. Nutr. Res., (2000); 20:449-459.
Gavin J.R., et al. Report of the expert committee on the diagnosis and classification of diabetes mellitus. Diabetes. Care, 2002; 25, s5-s20.
Vetrichelvan T., Jegadeesan M. Anti-diabetic activity of alcoholic extract of Aerva lanata (L.) Juss. ex Schultes in rats. J. Ethnopharmacol., (2002); 80:103-107.
Shobana S., Sreerama Y.N., Malleshi N.G. Composition and enzyme inhibitory properties of finger millet (Eleusine coracana L.) seed coat phenolics: Mode of inhibition of α-glucosidase and pancreatic amylase. Food Chem., (2009); 115:1268-1273.
Ramasubbu N., Paloth V., Luo Y., Brayer G.D., Levine M.J. Structure of human salivary α-amylase at 1.6 Å resolution: implications for its role in the oral cavity. Acta Crystallographica Section D: Biological Crystallography. (1996); 52:435-446.
Bischoff H., Puls W., Krause H.P., Schutt H., Thomas G. Pharmacological properties of the novel glucosidase inhibitors BAY m 1099 (miglitol) and BAY o 1248. Diabetes Research Clin. Pract., (1985); 1, S53.
Kim J.S., Hyun T.K., Kim M.J. The inhibitory effects of ethanol extracts from sorghum, foxtail millet and proso millet on α-glucosidase and α-amylase activities. Food Chem., (2011); 124:1647-1651.
Mobley H.L., Hausinger R.P. Microbial ureases: significance, regulation, and molecular characterization. Microbiol. Rev., (1989); 53:85-108.
Newsholme E., Leech A. Functional biochemistry in health and disease. John. Wiley. Sons., (2011)
Yu J.J., Smithson S.L., Thomas P.W., Kirkland T.N., & Cole G.T. Isolation and characterization of the urease gene (URE) from the pathogenic fungus Coccidioides immitis. Gene. (1997); 198:387-391.
Pedrozo H.A., Schwartz Z., Luther M., Dean D.D., Boyan B.D., Wiederhold M.L. A mechanism of adaptation to hypergravity in the statocyst of Aplysia californica. Hear. Res., (1996); 102:51-62.
Sirko A., & Brodzik R. Plant ureases: roles and regulation. Acta Biochimica Polonica. (1999); 47:1189-1195.
Arabski M., Konieczna I., Sołowiej D., Rogon, A, Kolesinska B., Kaminski Z., Kaca W. Are anti-helicobacter pylori urease antibodies involved in atherosclerotic diseases. Clin. Biochem., (2010); 43:115-123.
Konieczna I., Zarnowiec P., Kwinkowski M., Kolesinska B., Fraczyk J., Kaminski Z., Kaca W. Bacterial urease and its role in long-lasting human diseases. Curr. Protein. Pept. Sc., (2012); 13:789-806.
Dunn B.E., Phadnis S.H. Structure, function and localization of Helicobacter pylori urease. Yale J. Boil. Med., (1998); 71:63.
Rozalski A., Kwil I., Torzewska A., Baranowska M., Staczek P. Proteus bacilli: features and virulence factors. Postepy higieny i medycyny doswiadczalnej (Online). (2007); 61:204-219.
Wassermann G.E., Olivera Severo D., Uberti A.F., Carlini C.R. Helicobacter pylori urease activates blood platelets through a lipoxygenase mediated pathway. J. Cell. Mol. Med., (2010); 14:2025-2034.
Jabbar A., Zaman M.A., Iqbal Z., Yaseen M., Shamim A. Anthelmintic activity of Chenopodium album (L.) and Caesalpinia crista (L.) against trichostrongylid nematodes of sheep. J. Ethnopharmacol., (2007); 114:86-91.
Sudina G.F., Mirzoeva O.K., Pushkarevr M.A., Korshunova G., Sumbatyan N.V., Varfolomeev S.D. Caffeic acid phenethyl ester as a lipoxygenase inhibitor with antioxidant properties. FEBS Lett., (1993); 329:21-24.
Reddy S., Aggarwal B.B., Curcumin is a non-competitive and selective inhibitor of phosphorylase kinase. FEBS Lett., (1994); 341:19-22.
Heleno S.A, Martins A., Queiroz M.J.R., Ferreira I.C., Bioactivity of phenolic acids: Metabolites versus parent compounds: A review. Food. Chem., (2001); 173:501-513.
Zhu Y., Li T., Fu X., Abbasi A.M., Zheng B., Liu R.H. Phenolics content, antioxidant and antiproliferative activities of dehulled highland barley (Hordeum vulgare L.). J. Funct. Foods., (2015); 19:439-450.
Falleh H., Ksouri R., Chaieb K., Karray-Bouraoui N., Trabelsi N., Boulaaba M., Abdelly C. Phenolic composition of Cynara cardunculus L. organs, and their biological activities. C R. Biol., (2008); 331:372-379.
Prince P.S.M., Dhanasekar K., Rajakumar S. Vanillic acid prevents altered ion pumps, ions, inhibits FAS-receptor and caspase mediated apoptosis-signaling pathway and cardiomyocyte death in myocardial infarcted rats. Chem-biol. Int., (2015); 232:68-76.
Gawlik-Dziki U., Swieca M., Sułkowski M., Dziki D., Baraniak B., Czyz J. Antioxidant and anticancer activities of Chenopodium quinoa leaves extracts–in vitro study. Food. Chem. Toxicol., (2013); 57:154-160.
Mojica L., Meyer A., Berhow M.A., de Mejía E.G. Bean cultivars (Phaseolus vulgaris L.) have similar high antioxidant capacity, in vitro inhibition of α-amylase and α-glucosidase while diverse phenolic composition and concentration. Food. Res. Int., (2015); 69:38-48.
Leal L.K., Pierdona T.M., Goes J.G.S., Fonseca K.S., Canuto K.M., Silveira E.R., Viana G.S.B. A comparative chemical and pharmacological study of standardized extracts and vanillic acid from wild and cultivated Amburana cearensis AC Smith. Phytomedicine. (2011); 18:230-233.
Dhananjaya B.L., Nataraju A., Rajesh R., Gowda C.R., Sharath B.K., Vishwanath, B.S., D'Souza C.J. Anticoagulant effect of Naja naja venom 5′ nucleotidase: demonstration through the use of novel specific inhibitor, vanillic acid. Toxicon. (2006); 48:411-421.
Malairajan P., Gopalakrishnan G., Narasimhan S., Veni K.J.K., Kavimani S. Anti-ulcer activity of crude alcoholic extract of Toona ciliata Roemer (heart wood). J. ethnopharmacol., (2007); 110:348-351.
Huang S.M., Hsu C.L., Chuang H.C., Shih P.H., Wu C.H., Yen G.C. Inhibitory effect of vanillic acid on methylglyoxal-mediated glycation in apoptotic Neuro-2A cells. Neurotoxicology., (2008); 29:1016-1022.
Kumar S., Prahalathan P., Saravanakumar M., & Raja B. Vanillic acid prevents the deregulation of lipid metabolism, endothelin 1 and up regulation of endothelial nitric oxide synthase in nitric oxide deficient hypertensive rats. Eur. J. Pharmacol., (2014); 743:117-125.
Lesage-Meessen L., Delattre M., Haon M., Thibault J.F., Ceccaldi B.C., Brunerie P., Asther M. A two-step bioconversion process for vanillin production from ferulic acid combining Aspergillus niger and Pycnoporus cinnabarinus. J. Biotechnol., (1996); 50: 107-113.
Duke J.A. Database of phytochemical constituents of GRAS herbs and other economic plants. CRC Press. (1992).
Pacheco-Palencia L.A, Mertens-Talcott S., Talcott S. Chemical composition, antioxidant properties, and thermal stability of a phytochemical enriched oil from Acai (Euterpe oleracea Mart.). J. Agr. Food Chem., (2008); 56:4631-4636.
Pearl I.A. Reactions of vanillin and its derived compounds. I. The reaction of vanillin with silver oxide1. J. Am. Chem. Soc., (1946); 68:429-432.
Ksouri R., Falleh H., Megdiche W., Trabelsi N., Mhamdi B., Chaieb K., Abdelly C. Antioxidant and antimicrobial activities of the edible medicinal halophyte Tamarix gallica L. and related polyphenolic constituents. Food. Chem. Toxicol., (2009); 47:2083-2091.
Dhaouadi K., Meliti W., Dallali S., Belkhir M., Ouerghemmi S., Sebei H., Fattouch S. Commercial Lawsonia inermis L. dried leaves and processed powder: Phytochemical composition, antioxidant, antibacterial, and allelopathic activities. Ind. Crops. Prod., (2015); 77:544-552.
Nowacka N., Nowak R., Drozd M., Olech M., Los R., Malm A. Analysis of phenolic constituents, antiradical and antimicrobial activity of edible mushrooms growing wild in Poland. LWT-Food. Sci. Technol., (2014); 59:689-694.
Zhao Y., Chen M., Zhao Z., Yu S. The antibiotic activity and mechanisms of sugarcane (Saccharum officinarum L.) bagasse extract against food-borne pathogens. Food Chem., (2015); 185:112-118.
Trigui M., Hsouna A.B., Tounsi S., Jaoua S. Chemical composition and evaluation of antioxidant and antimicrobial activities of Tunisian Thymelaea hirsuta with special reference to its mode of action. Ind. Crops Prod., (2013); 41:150-157.
Oliveira D.A., Salvador A.A., Smania A., Smania E.F., Maraschin M., Ferreira S.R. Antimicrobial activity and composition profile of grape (Vitis vinifera) pomace extracts obtained by supercritical fluids. J. Biotechnol., (2013); 164:423-432.
Naz S., Ahmad S., Rasool S.A., Sayeed S.A., Siddiqi R. Antibacterial activity directed isolation of compounds from Onosma hispidum. Microbiol. Res., (2006); 161:43-48.
Razak D.L.A., Rashid N.Y.A., Jamaluddin A., Sharifudin S.A., Long K. Enhancement of phenolic acid content and antioxidant activity of rice bran fermented with Rhizopus oligosporus and Monascus purpureus. Biocatalysis and Agricultural Biotechnology. (2015); 4:33-38.
Lee M.H., Lee Y.C., Kim S.S., Hong H.D., Kim K.T. Quality and antioxidant activity of ginseng seed processed by fermentation strains. J. Ginseng. Res., (2015); 39:178-182.
Demir N., Yildiz O., Alpaslan M., Hayaloglu A.A. Evaluation of volatiles, phenolic compounds and antioxidant activities of rose hip (Rosa L.) fruits in Turkey. LWT Food Sci. Technol., (2014); 57:126-133.
Xiao Y., Zhang Q., Miao J., Rui X., Li T., Dong M. Antioxidant activity and DNA damage protection of mung beans processed by solid state fermentation with Cordyceps militaris SN-18. Innov. Food. Sci. Emerg. Technol. (2015); 31:216-225.
Laghari A.H., Memon S., Nelofar A., Khan K.M., Yasmin A. Determination of free phenolic acids and antioxidant activity of methanolic extracts obtained from fruits and leaves of Chenopodium album. Food Chem., (2011); 126:1850-1855.
Bhanja T., Kumari A., Banerjee R. Enrichment of phenolics and free radical scavenging property of wheat koji prepared with two filamentous fungi. Bioresour. Technol., (2009); 100:2861-2866.
Girish T.K., Pratape V.M., Rao U.P. Nutrient distribution, phenolic acid composition, antioxidant and alpha-glucosidase inhibitory potentials of black gram (Vigna mungo L.) and its milled by-products. Food. Res. Int., (2012); 46:370-377.
Wang T., Li X., Zhou B., Li H., Zeng J., Gao W. Anti-diabetic activity in type 2 diabetic mice and α-glucosidase inhibitory, antioxidant and anti-inflammatory potential of chemically profiled pear peel and pulp extracts (Pyrus spp.). J. Funct. Foods. (2015); 13:276-288.
Hemalatha P., Bomzan D.P., Rao B.S., Sreerama Y.N. Distribution of phenolic antioxidants in whole and milled fractions of quinoa and their inhibitory effects on α-amylase and α-glucosidase activities. Food. Chem., (2016) 19:330-338.
Dey P., Saha M.R., Chowdhuri S.R., Sen A., Sarkar M.P., Haldar B., Chaudhuri T.K. Assessment of anti-diabetic activity of an ethnopharmacological plant Nerium oleander through alloxan induced diabetes in mice. J. Ethnopharmacol., (2015); 161:128-137.
Choi C.I., Lee S.R., Kim K.H., Antioxidant and α-glucosidase inhibitory activities of constituents from Euonymus alatus twigs. Ind. Crops. Prod. (2015); 76:1055-106.
Intisar A., Zhang L., Luo H., Kiazolu J.B., Zhang R., Zhang W. Anticancer constituents and cytotoxic activity of methanol-water extract of Polygonum bistorta L. Afr. J. Tradit. Complement. Altern. Med., (2012); 10:53-59.
Kaliora A.C., Kogiannou D.A., Kefalas P., Papassideri I.S., & Kalogeropoulos N. Phenolic profiles and antioxidant and anticarcinogenic activities of Greek herbal infusions; balancing delight and chemoprevention. Food. Chem., (2014); 142:233-241.
Ashraf A., Sarfraz R.A., Mahmood A., Din M. Chemical composition and in vitro antioxidant and antitumor activities of Eucalyptus camaldulensis Dehn leaves. Ind. Crops. Prod., (2015); 74:241-248.
Chatthongpisut R., Schwartz S.J., Yongsawatdigul J. Antioxidant activities and antiproliferative activity of Thai purple rice cooked by various methods on human colon cancer cells. Food. Chem., (2015); 188: 99-105.
Beara I.N., Lesjak M.M., Cetojevic-Simin D.D., Marjanovic Z.S., Ristic J.D., Mrkonjic Z.O., Mimica-Dukic, N.M. Phenolic profile, antioxidant, anti-inflammatory and cytotoxic activities of black (Tuber aestivum Vittad.) and white (Tuber magnatum Pico) truffles. Food. Chem., (2014); 165:460-466.
Hyun T.K., Ko Y.J., Kim E.H., Chung I.M., Kim J.S. Anti-inflammatory activity and phenolic composition of Dendropanax morbifera leaf extracts. Ind. Crops. Prod., (2015); 74:263-270.
Beara I.N., Lesjak M.M., Cetojevic-Simin D.D., Orcic D.Z., Jankovic T., Anackov G.T., Mimica-Dukic N.M. Phenolic profile, antioxidant, anti-inflammatory and cytotoxic activities of endemic Plantago reniformis G. Beck. Food Res. Int., (2012); 49:501-50.
Speroni E., Cervellati R., Innocenti G., Costa S., Guerra M.C., Dall'Acqua S., Govoni P. Anti-inflammatory, anti-nociceptive and antioxidant activities of Balanites aegyptiaca (L.) Delile. J. Ethnopharmacol., (2005); 98:117-125.
Wang X.L., Zhang Y.B., Tang J.F., Yang Y.S., Chen R.Q., Zhang F., Zhu H.L. Design, synthesis and antibacterial activities of vanillic acylhydrazone derivatives as potential β-ketoacyl-acyl carrier protein synthase III (FabH) inhibitors. Eur. J. Med. Chem., (2012); 57:373-382.
Cueva C., Moreno-Arribas M.V., Martin-Alvarez P.J., Bills G., Vicente M.F., Basilio A., Bartolome B. Antimicrobial activity of phenolic acids against commensal, probiotic and pathogenic bacteria. Res. microbiol., (2010); 161:372-382.
Aleksic V., Knezevic P. Antimicrobial and antioxidative activity of extracts and essential oils of Myrtus communis L. Microbiol. Res., (2014); 169:240-254.
Mourtzinos I., Konteles S., Kalogeropoulos N., Karathanos V.T. Thermal oxidation of vanillin affects its antioxidant and antimicrobial properties. Food Chem., (2009); 114:791-797.
Eom T.K., Senevirathne M., Kim S.K. Synthesis of phenolic acid conjugated chitooligosaccharides and evaluation of their antioxidant activity. Environ. Toxicol. Pharmacol., (2012); 34:519-527.
Reddy K.K., Ravinder T., Kanjilal S. Synthesis and evaluation of antioxidant and antifungal activities of novel ricinoleate-based lipoconjugates of phenolic acids. Food. Chem. (2012); 134:2201-2207.
Chung I.M., Lim J.J., Ahn M.S., Jeong H.N., An T.J., Kim S.H. Comparative phenolic compound profiles and antioxidative activity of the fruit, leaves, and roots of Korean ginseng (Panax ginseng Meyer) according to cultivation years. J. Ginseng. Res., (2016); 40:68-75.
Xiao H.H., Gao Q.G., Zhang Y., Wong K.C., Dai Y., Yao X.S, Wong M.S. Vanillic acid exerts oestrogen-like activities in osteoblast-like UMR 106 cells through MAP kinase (MEK/ERK)-mediated ER signaling pathway. J. Steroid Biochem. Mol. Biol., (2014); 144:382-391.
Tao L., Wang S., Zhao Y., Sheng X., Wang A., Zheng S., Lu Y. Phenolcarboxylic acids from medicinal herbs exert anticancer effects through disruption of COX-2 activity. Phytomedicine., (2014); 21:1473-1482.
De los Angeles Yrbas M., Morucci F., Alonso R., Gorzalczany S. Pharmacological mechanism underlying the antinociceptive activity of vanillic acid. Pharmacol. Biochem. Behav., (2015); 132:88-95.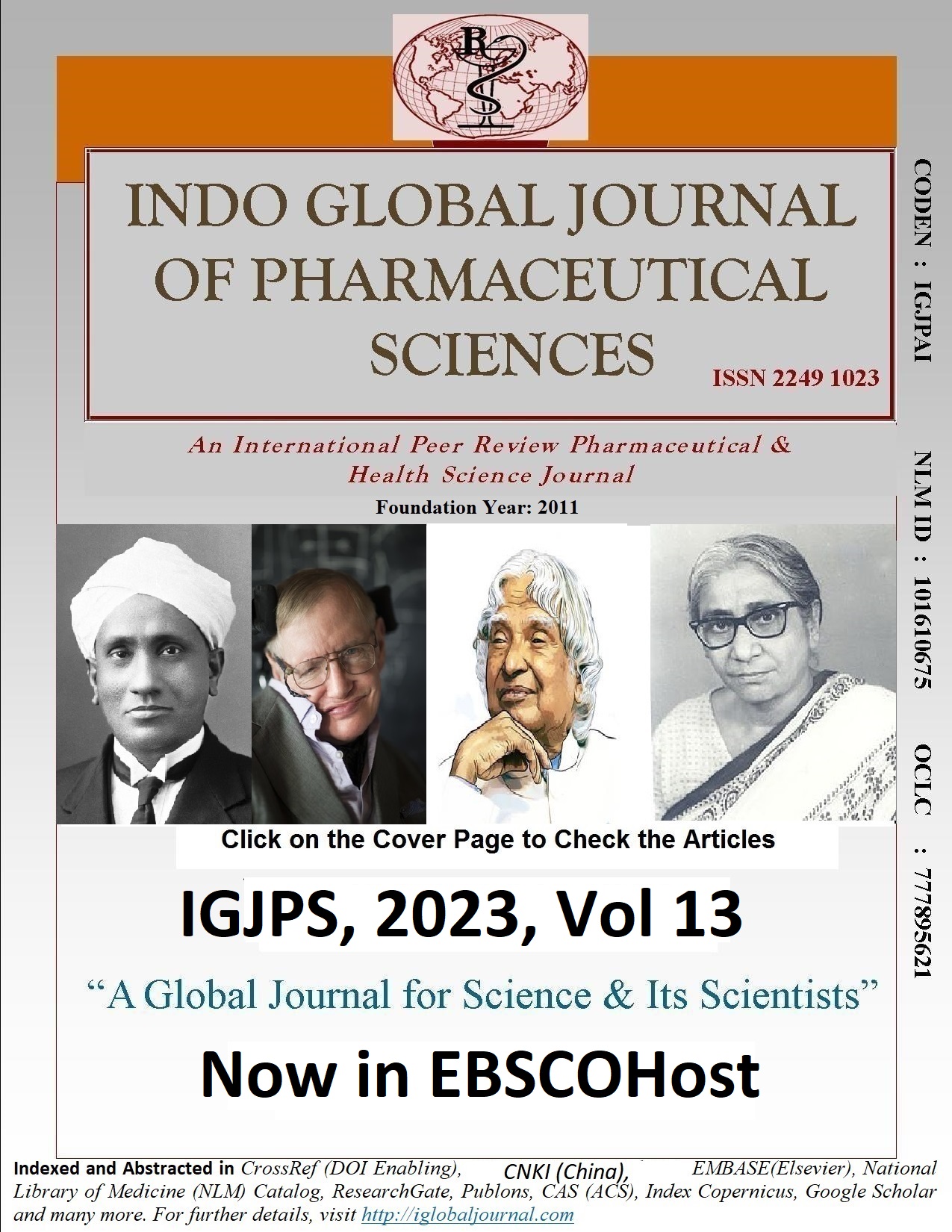 Downloads
How to Cite
Malik, A., Khatkar, A., & Kakkar, S. (2023). A Review on Pharmacological Activities of Vanillic Acid and its Derivatives. Indo Global Journal of Pharmaceutical Sciences, 13, 1–12. https://doi.org/10.35652/IGJPS.2023.13001