An Indigenous Study on Malassezial Susceptibility Testing by Selected Plant Extracts
Keywords:
Dandruff, phytochemicals, ketoconazole, Malassezia furfur, Thin layer chromatography
Abstract
The present study was carried out to evaluate the antifungal activity of ten selected plant extracts of Nelumbo nucifera, Senna auriculata, Salvia officinalis, Tagetes erecta, Psidium guajava, Argemone mexicana, Hibiscus sabdariffa, Hemidesmus indicus, Moringa oleifera, and Glycyrrhiza glabra with ketoconazole as the positive reference standard. Their antimalassezial efficacy was tested using different concentrations of extracts in various solvents. The preliminary screening of plant extracts was determined by Kirby Bauer disc diffusion method and among the ten plant extracts, aqueous extract of S. officinalis and ethanol extract of H. sabdariffa extract exhibited potent antifungal activity against Malassezia furfur. The purification and partial characterization of H. sabdariffa and S. officinalis were carried out by Thin layer chromatography (TLC) technique. The Minimum Inhibitory Concentration (MIC) of H. sabdariffa and S. officinalis against M. furfur by Kirby Bauer method was 0.312 mg/mL and 0.625 mg/mL respectively against 50 µg/mL of Ketoconazole which was used as the standard. The phytochemical analysis of S. officinalis and H. sabdariffa revealed the presence of terpenoids, steroids, tannins, and polyphenols of which the concentration of polyphenols and flavonoids were significantly higher in S. officinalis and H. sabdariffa respectively. Thus, the present study concludes that S. officinalis and H. sabdariffa have a potent activity against M. furfur, thereby reducing the prevalence of dandruff, provided the future perspectives of the study that include characterization and cytotoxicity of the compound.  © 2022 Caproslaxy Media. All rights reserved.
References
Hay, R. J. Malassezia, dandruff and seborrhoeic dermatitis: an overview. British Journal of Dermatology., 2011; 165:2-8.
Bettina Sommer., David, P. Overy, Bradley Haltli and Russell, G. Kerr, Secreted lipases from Malassezia globosa: recombinant expression and determination of their substrate specificities, Microbiology. 2016; 162.
Kieffer, M., et al. Immune reactions to Pityrosporum ovale in adult patients with atopic and seborrheic dermatitis. Journal of the American Academy of Dermatology., 1990; 22(5): 739-742.
Elizabeth A Grice, Thomas L Dawson., Host–microbe interactions: Malassezia and human skin. Current Opinion in Microbiology. 2017; (81):40.
Svetaz, L. et al. Value of the ethno medical information for the discovery of plants with antifungal properties. A survey among seven Latin American countries. Journal of Ethno pharmacology., 2010; 127: 137-158.
Hoareau, L., DaSilva, EJ. Medicinal plants: a re-emerging health aid. Electronic Journal of Biotechnology., 1999; (2): 56-70.
Jay-Hyun Jo., Elizabeth, A. Kennedy., Heidi H. Kong. Topographical and physiological differences of the skin mycobiome in health and disease, Virulence., 2016; 324-333.
Roderick J. Hay and H. Ruth Ashbee .Fungal Infections, Rook's Textbook of Dermatology, Ninth Edition., 2016; 1-110.
Vicente Crespo Erchiga., Eveline Gueho. Superficial Diseases Caused by Malassezia Species, Topley & Wilson's Microbiology and Microbial Infections., 2010 ;(9).
Yang Won Lee., Min Seok Hur. Pharmacologic treatment of seborrheic dermatitis, Journal of the Korean Medical Association., 2017; (60) 409.
G.E. Pierard, J.E. Arrese, C. P. Dedoncker. Prolonged effects of antidandruff shampoos time to recurrence of Malassezia ovalis colonization of skin, International Journal of Cosmetic Science., 2008; 19(3): 111-117.
Kaul, P.N., Joshi, B.S. Alternative medicine Herbal drugs and their critical appraisal- part ii. Prog Drug Res., 2001; 57:1-75.
Ncube, N. S., Afolayan, A. J., & Okoh, A. I. Assessment techniques of antimicrobial properties of natural compounds of plant origin: current methods and future trends. African journal of biotechnology., 2008; 7(13).
Sharma, S. M., Upadhyay, S. U., Patel, T., & Trivedi, P. Herbal Armamentarium for the culprit dandruff. International Journal of Phytopharmacy Research, 2013. 4(1), 23-28.
Minakshi, B. et al. Phytochemical Analysis of Traditional Medicinal Plants and their Antimicrobial Activity: An Experience from North East India., 2016; 1(1).
Fatema shah., Ziaul Hasan., Kamal Uddin Zaidi. Phytochemical constituents and synergistic activity of Olea Europaea plant extracts against some human disease causing species.Microbiol Expo., 201; 4(5):00127.
Patel, V., Suthar, M., Pande, V., Arote, S. In-Vitro Screening of Withania Somnifera Leaf and Root Extracts for Antifungal Activities using M44-A NCCLS Assay., 2017
Pasquetti, M., Beccati, M., Chiavassa E., Peano, A. Evaluation of the antifungal susceptibility of Malassezia pachydermatis to clotrimazole, miconazole and thiabendazole using a modified CLSI M27-A3 microdilution method. Veterinary dermatology., 2012; 23(2): 131-29.
J.B. Harborne – Champman., Hall. Phytochemical Methods: A guide to modern techniques of plant analysis., 1998.
Raaman, N. Phytochemical techniques. New India Publishing., 2006
De, S., Dey Y. N., Ghosh, A. K. Phytochemical investigation and chromatographic evaluation of the different extracts of tuber of Amorphaphallus paeoniifolius (Araceae). Int J Pharm Biol Res., 2010; 1(5).
Asha, V., Ahirwar, A. K. Phytochemical investigations, extraction and thin layer chromatography of Acorus calamus Linn. Int. J. of Res. Stud. Bio., 2015; 3, 18-22.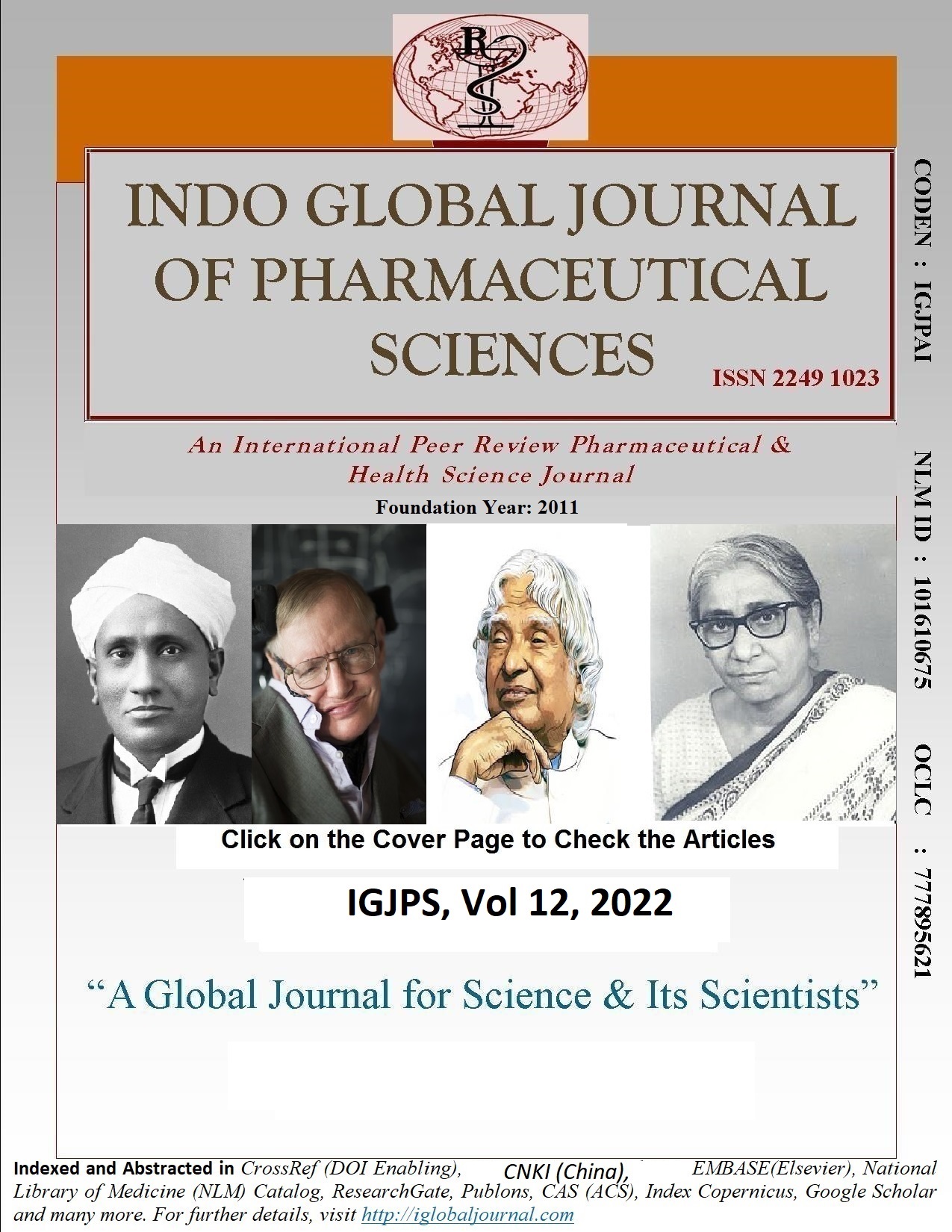 Downloads
How to Cite
Suguna, S., Thomas, T. A., & Tirumale, S. (2022). An Indigenous Study on Malassezial Susceptibility Testing by Selected Plant Extracts. Indo Global Journal of Pharmaceutical Sciences, 12, 253–257. https://doi.org/10.35652/IGJPS.2022.12033
Section
Original Research Article