Formulation of Silver Nanoparticle of Cassia angustifolia by Using Green Synthesis Method and Screening for In-Vitro Anti-Inflammatory Activity
Keywords:
Nanoparticle, Silver nanoparticles, Green synthesis, Nanotechnology
Abstract
The main objectives in developing nanoparticles as a delivery system are to manage particle size, surface characteristics, and the release of pharmacologically active substances to achieve the drug's site-specific action at the appropriate rate and dose. They can help boost medication stability and have helpful controlled release features, for example. Nowadays researchers are moving towards the green chemistry approach which is an alternative route that is eco-friendly, cheap and fast; in that plant extracts and microorganisms are used in the reduction of the metal salt which is fast gaining demand in the field of nanobiotechnology. In this study, silver nitrate was reduced to its "nanosilver form" through a one-step synthesis protocol using an extract of Cassia Angustifolia. Three different batches namely batch A, B, C of varying temperature and another three batches namely D, E, F of varying pH were synthesized. The prepared nanoparticles were optimized and characterized by practical yield determination, drug entrapment efficiency, particle size determination and measurement of zeta potential. The synthesized nanoparticles were screened for in vitro anti-inflammatory activity. Result found that the percentage practical yield of synthesized nanoparticles was within the range of 6.41-52.61%. The drug entrapment efficiency was found to be 99.875%. AgNPs inhibited protein denaturation and showed 75.52% inhibition at 500μg ml-1 whereas standard drug Aspirin exhibited 65.03% protein denaturation. © 2022 iGlobal Research and Publishing Foundation. All rights reserved.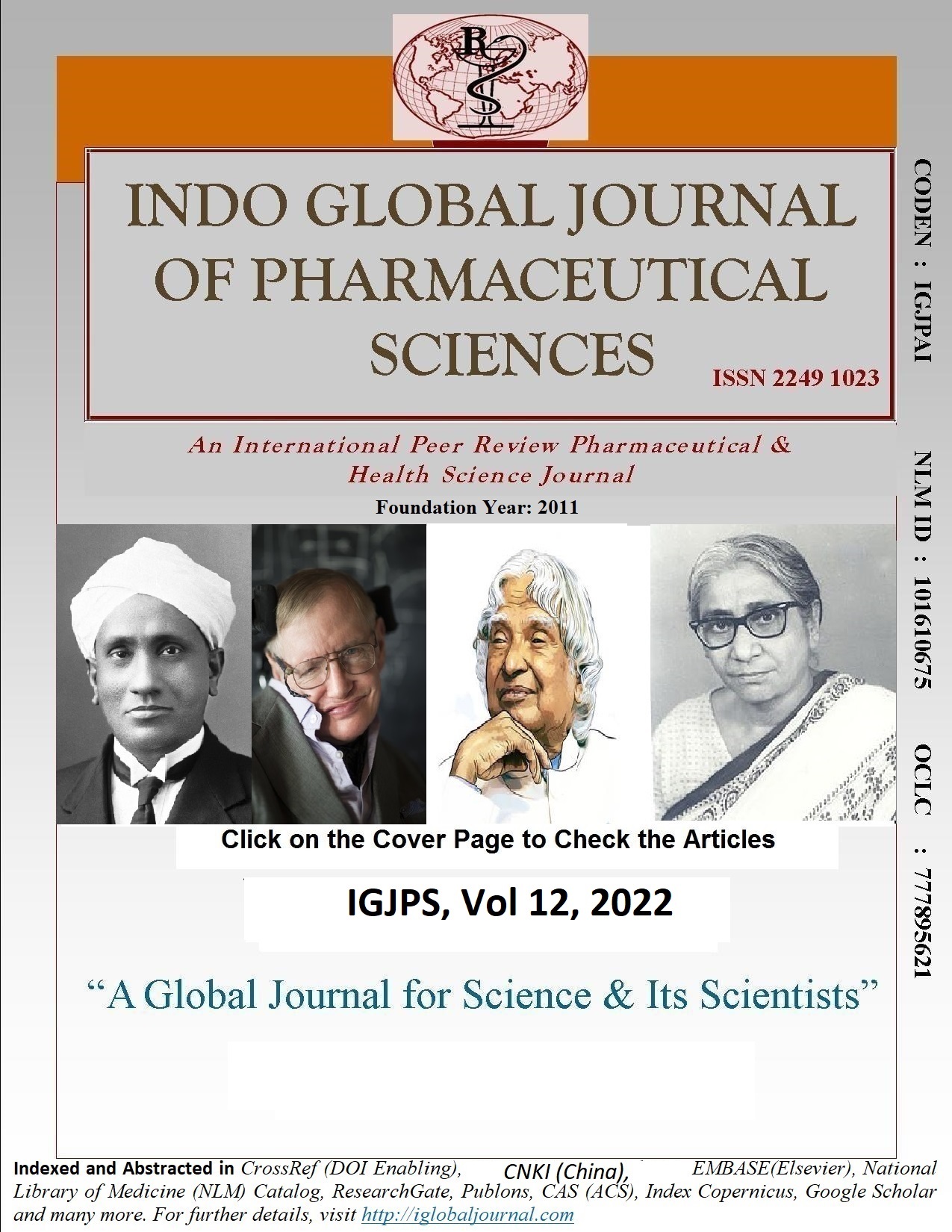 Downloads
How to Cite
Patil, P. A., Dalvi, S., Dhaygude, V., & Shete, S. D. (2022). Formulation of Silver Nanoparticle of Cassia angustifolia by Using Green Synthesis Method and Screening for In-Vitro Anti-Inflammatory Activity. Indo Global Journal of Pharmaceutical Sciences, 12, 183–188. https://doi.org/10.35652/IGJPS.2022.12022
Section
Original Research Article